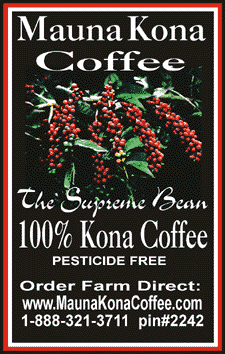 "From our trees to your cup!"
Mauna Kona Coffee, a family operated farm, is located on the upper slopes of Mauna Loa in the Honaunau Valley of Kona Hawaii. "From our trees to your cup" Mauna Kona offers Hawaii's world renowned 100% Kona coffee, at farm direct prices!
Natural shade provided by cloudy afternoons, combined with "high elevation" low nightly temperatures allows the beans to mature slowly, resulting in a high quality bean, packed with tremendous flavor.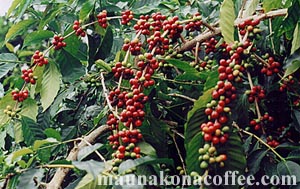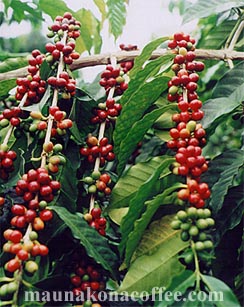 Mauna Kona uses NO pesticides. Mauna Kona is blessed with having deep rich volcanic soil. Each bean is "hand picked" at the point of ripeness- when the beans are red and juicy. Beans are "sun dried" in the traditional way. Beans are carefully processed with "plenty Aloha".
The taste of our coffee has been described as "smooth with buttery and nutty overtones, rich and velvety, without heaviness, with a lingering fruity aftertaste". When was the last time you had a cup of coffee tasting like that? We recommend a rounded teaspoon per six ounce cup---compare that to other brands and you will see why smart people buy Mauna Kona coffee. Why? It's a great deal! $22.00/LB (light/medium) equals approx. 96 - 6.oz cups.. That equates to a mere .22 cents a cup!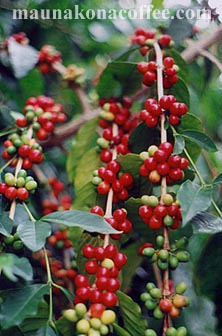 Our beans are fresh roasted daily and packed in valve sealed packages to ensure freshness.
Due to the ever rising costs to do business and harvest and process the coffee, we have raised our prices slightly. We feel we are still offering highest quality at a much lower price than retail and many or most of our competitors. Still that same smooth, rich taste of high elevation Kona coffee…hand-picked, fresh roast, farm direct…from our trees to your cup!
PRICE CHANGE:
1 lb. light roast $22
1 lb. medium roast $22
1 lb. dark roast $23
5 lbs. bulk bag light/med roasts $105
5 lbs. bulk bag dark roast $110
"If it doesn't say 100% Kona Coffee
it's Not Pure Kona"


Remember be sure it's pure.
Join The Club
A convenient way to keep the coffee flowing. On the first of each month we will automatically send your monthly supply of fresh roasted beans at no extra charge. Just send us an email to sign-up. aloha@maunakonacoffee.com

Taste the Best!
Farm Direct 100% Kona Coffee!


To place an order please call
1-808-328-7427
(best time is in the AM Hawaii time)


CALL or EMAIL US TO ORDER

We look forward to hearing from you!
Mauna Kona Coffee Farm
100% Kona Coffee
Highest Quality/ Best Price